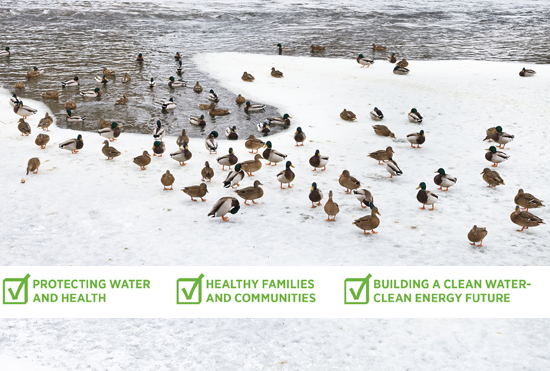 Big Wins... Despite Big Opposition
January 3, 2016
2015 was a year of big wins for Clean Water Action, despite well-funded opposition by polluters and their allies in Congress!
Victory #1:  In May of 2015, the US Environmental Protection Agency (EPA) finalized the Clean Water rule that restores protection to the sources of drinking water for 1 in 3 Americans.  Clean Water Action helped lead the campaign that made this happen, generating hundreds of thousands of emails, letters, and postcards to the EPA and the White House calling for strong action.
Victory #2:  In September of 2015, the EPA approved another rule that will end electric generating plants free pass to pollute our water.  The new rule will keep 1.4 million pounds of toxic chemicals like lead, arsenic and mercury out of our rivers and streams every year!
Victory #3:  EPA's proposed Clean Power Plan went into effect this fall, ratcheting down greenhouse gas emissions from power plants in the US.  Combined with other initiatives to cut emissions by cars and light trucks and to improve energy efficiency in appliances and electrical equipment, this will help the US meet the commitments we made in the Paris climate negotiations in December.
And there's more victories to come in 2016.  In 2015, we lobbied for an EPA rule that will stop frackers from sending their toxic wastewater to public sewage treatment plants which are unable to safely treat it.  We hope to see this rule finalized in 2016.  We also fought for a strong rule to cut methane emissions from oil and gas facilities, and hope to see that rule completed in 2016 as well.
And that's just the national victories.  All our states have important wins as well.  Just a few highlights include pharmaceutical take-back ordinances in California, a renewed ban on fracking in state parks in Pennsylvania, a local ban on single use foam foodware in Maryland, new state procurement rules in Connecticut that will result in purchase of less toxic products, and a phase-out of several toxic flame retardants in Minnesota.
Your support and generosity helped make these wins happen!  Our opponents on the Clean Water rule likely spent millions of dollars trying to block the rule, and they're not done yet.  They are still lobbying in Congress and filing suits in court to block the rule.  But the activism of our 1 million members and the support of our generous donors helps us fight back and win.
So thanks for your help in making 2015 so productive…and we look forward to working with you to win even more victories for clean water in 2016!