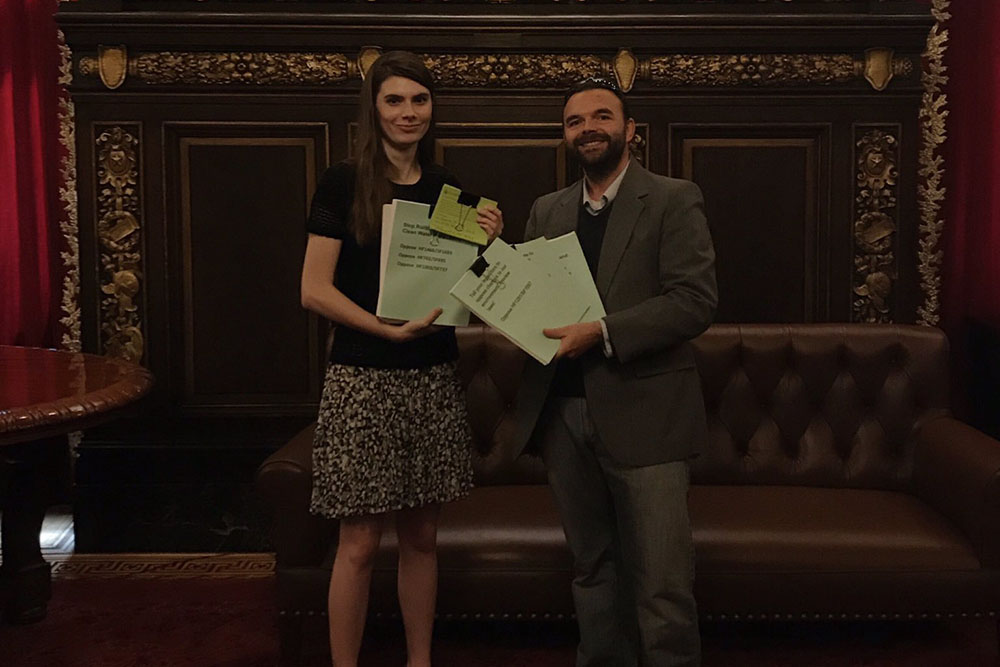 Reflections from my Legislative Program Internship
August 14, 2017
As the Minnesota Legislative Program Intern for Clean Water Action, I delved into the democratic process more than I ever had before.
Prior to this, of course I voted. I read the news but I had not realized how much my knowledge of state affairs was lacking. My presence at the capitol covering committee meetings and hearings opened a window that I hadn't known existed—one that showed me the public's role in government.
Initially, taking notes at these meetings seemed like a daunting task. With my laptop balanced on my knees I tapped furiously against the keys, trying to transcribe complex and nuanced discussions of policy and legislation that I didn't quite understand. With time I came to better understand those issues—the intricacies of the riparian buffer law, the implications of scrapping the Made in Minnesota solar program and modifying the process of Environmental Impact Statements, and what cuts to the funding of government agencies would mean for our water quality. It also reinforced the importance of having a full-time legislative coordinator dedicated to understanding the issues and who has taken the time to cultivate relationships with legislators.
Through the exposure to the state legislative process, I gained a better grasp of politics at the federal level. No longer were either remote. They became accessible through experiences and a familiarity with this process. I was present when a testifier sang a song to a crescent-shaped panel of lawmakers. I watched eager elementary school students share their knowledge and worries about the environment with our governor at the Youth Caucus. I registered people at Water Action Lobby Day and leaned over the balustrade to watch the speakers on the rotunda below.  
All the meetings I attended were open to the public and members of the public could testify in support or opposition to a piece of legislation—a fact that wasn't readily apparent to me before starting this internship. While the location and time of these meetings are restrictive for most people, there are ways of becoming involved in the process.
To be sure, there are barriers that intentionally inhibit public involvement and transparency—the worst of which sadly characterized this session as many meetings were postponed until late into the night or behind closed doors. Legislation was introduced with little time to review its full contents and eliminated in one sweeping measure through delete-all amendments. The Minnesota legislature wasn't exempt from the partisanship political reality of Washington. As I had a focus on environmental issues, I couldn't understand how some had become so polarized.
I enjoyed my experiences as the Legislative Program Intern this past session and for that reason I won't end ruminating on the disheartening political climate that has seeped into our capitol's corridors. Rather, I would retroactively tell my 18-year-old self excited to cast a ballot for the first time that decisions aren't only made in D.C. My state's government won't ask for my voice or involvement but through my internship I've learned that by acting together, all of us can have an impact on decisions that are made in the legislature.