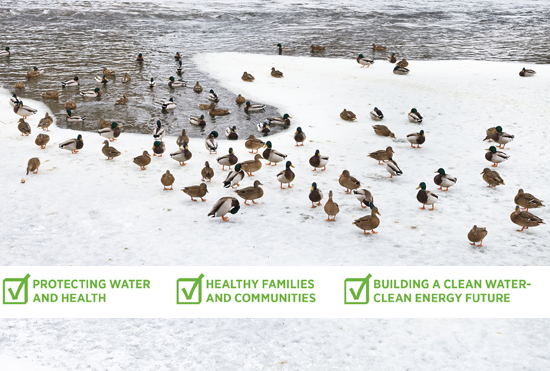 January 3, 2016
2015 was a year of big wins for Clean Water Action, despite well-funded opposition by polluters and their allies in Congress!
Victory #1:  In May of 2015, the US Environmental Protection Agency (EPA) finalized the Clean Water rule that restores protection to the sources of drinking water for 1 in 3 Americans.  Clean Water Action helped lead the campaign that made this happen, generating hundreds of thousands of emails, letters, and postcards to the EPA and the White House calling for strong action.
November 26, 2015
This week we gather with family and friends to give thanks and reflect on the past year. As I think about 2015, I am full of gratitude for Clean Water Action members. And I am amazed at what we have accomplished. With Clean Water Action members leading the way, we won big for our water and communities. From fighting for new protections for streams and wetlands, the sources of drinking water for so many, to ending coal plants' free pass to dump waste into lakes and rivers, Clean Water Action members answer the call and make the critical difference. Thank you.