New Billboards Warn That Trump Administration Will Sell Public Lands to the Highest Bidder
Spoof Realty Billboards Will Elevate the Liquidation of Public Lands by William Perry Pendley, Acting Director of the Bureau of Land Management & David Bernhardt, Secretary of the Department of the Interior
A series of three billboards have been placed across Grand Junction featuring a spoof realty advertisement from Bureau of Land Management (BLM) Acting Director, William Perry Pendley and Secretary of the Interior, David Bernhardt, that highlights their efforts to dismantle and sell off public lands.
The billboards, which can be seen at Hwy 6&50, Hwy 340, and North 1st Street read, "FOR SALE: Your Public Lands. From the Trump Realty Team! Pendley and Bernhardt Selling Associates" and were commissioned by Clean Water Fund.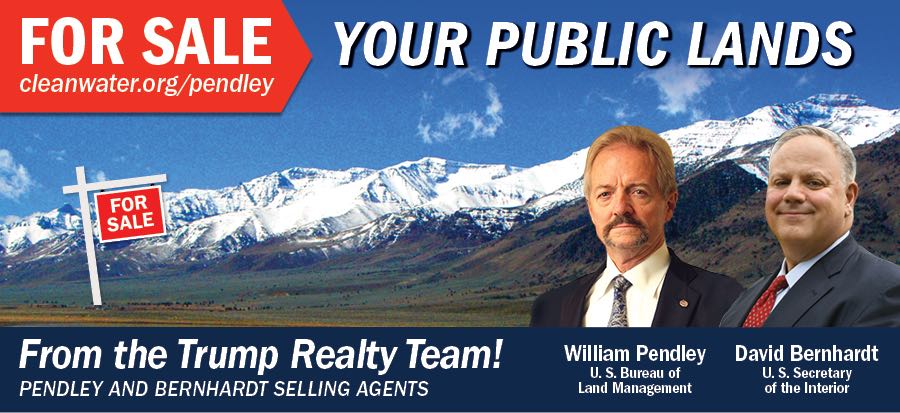 "Director Pendley and Secretary Bernhardt are a direct threat to public lands to public land and wild spaces across America," said Brent Bolin, Political Director of Clean Water Action. "These billboards aim to elevate just how dangerous it is to put an anti-public lands zealot in charge of our national parks and wild spaces and the risk this poses to our communities."
Earlier this month, as Pendley arrived at Bureau of Land Management offices in Grand Junction, members of Clean Water Action, Rig to Flip and other local conservation groups met him with an "unwelcoming committee," with a protest featuring swamp monster costumes and masks, and nefarious Pendley inspired mustaches.
See more photos from the "Unwelcoming Committee" here.
This came just a day before U.S. Secretary of the Interior David Bernhardt reauthorized William Perry Pendley as acting deputy director for the Bureau of Land Management. Pendley has served as acting deputy director of the Bureau of Land Management since July 2019. 
Pendley's background demonstrates that he is a foe of America's public lands. As recently as 2016, Pendley argued that the U.S. Constitution "requires" the federal government to sell the lands it owns in the West. For nearly 30 years Pendley was president of the Mountain States Legal Foundation (MSLF), where he frequently sued federal agencies to challenge conservation policies and regulations, including national monument designations—successful economic drivers for many nearby communities.  Under his direction, the MSLF publicly supported scofflaw Cliven Bundy, who led an armed standoff with BLM officials in 2014 over Bundy's unpaid grazing fees.