World Asthma Day Virtual Town Hall: #LetUsBreathe
Tuesday, May 4, 2021 - 7:00pm
Join Clean Water Action for a #LetUsBreathe Virtual Town Hall for World Asthma Day, Tuesday, May 4th at 7 pm EST (4 pm PST).  The Town Hall aims to raise awareness of asthma and improve the lives of all people living with this chronic disease.
This virtual event is free and will be held on Zoom. RSVP here - we will email you a link to join us! You can also join us on Facebook live during the event on our Clean Water Action Facebook page.
Speakers:
Jesus Alsonso, Kern Environmental Justice Community Organizer, Clean Water Action
Kim Gaddy, National Environmental Justice Director, Clean Water Action (Moderator)
Dr. Deborah Gentile, Board-certified allergist & immunologist specializing in treating allergies, asthma, and immunologic conditions.
Cindy Luppi, New England Director, Clean Water Action
Andrea Vidaurre, Policy Analyst, Peoples Collective for Environmental Justice, Inland Empire, California
About
On World Asthma Day and throughout the month of May, people with asthma, health professionals, community activists and organizations are dedicating events to discuss and prioritize strategies to reduce asthma disparities.
In the U.S., 25 million people have asthma. 7.7% of all adults have asthma. The burden falls at much higher rates on black and brown communities; 14% of people of color have asthma. It doesn't have to be this way. Join us to learn more about the fight for asthma justice!
Critical conversations are needed to lift the voices of low income and communities of color that are hardest hit by air pollution and have high rates of asthma. Also, these communities are now the most vulnerable populations due to the fact that preexisting conditions, such as asthma, make Covid-19 impacts more severe.  
The virtual town hall is co-hosted by Clean Water Action and our allies at Athena, a new alliance of people who believe that everyone should be able to enjoy the benefits of digital technologies and online commerce without having to sacrifice our rights and liberties, health and planet, or hopes and dreams.
Speaker Bios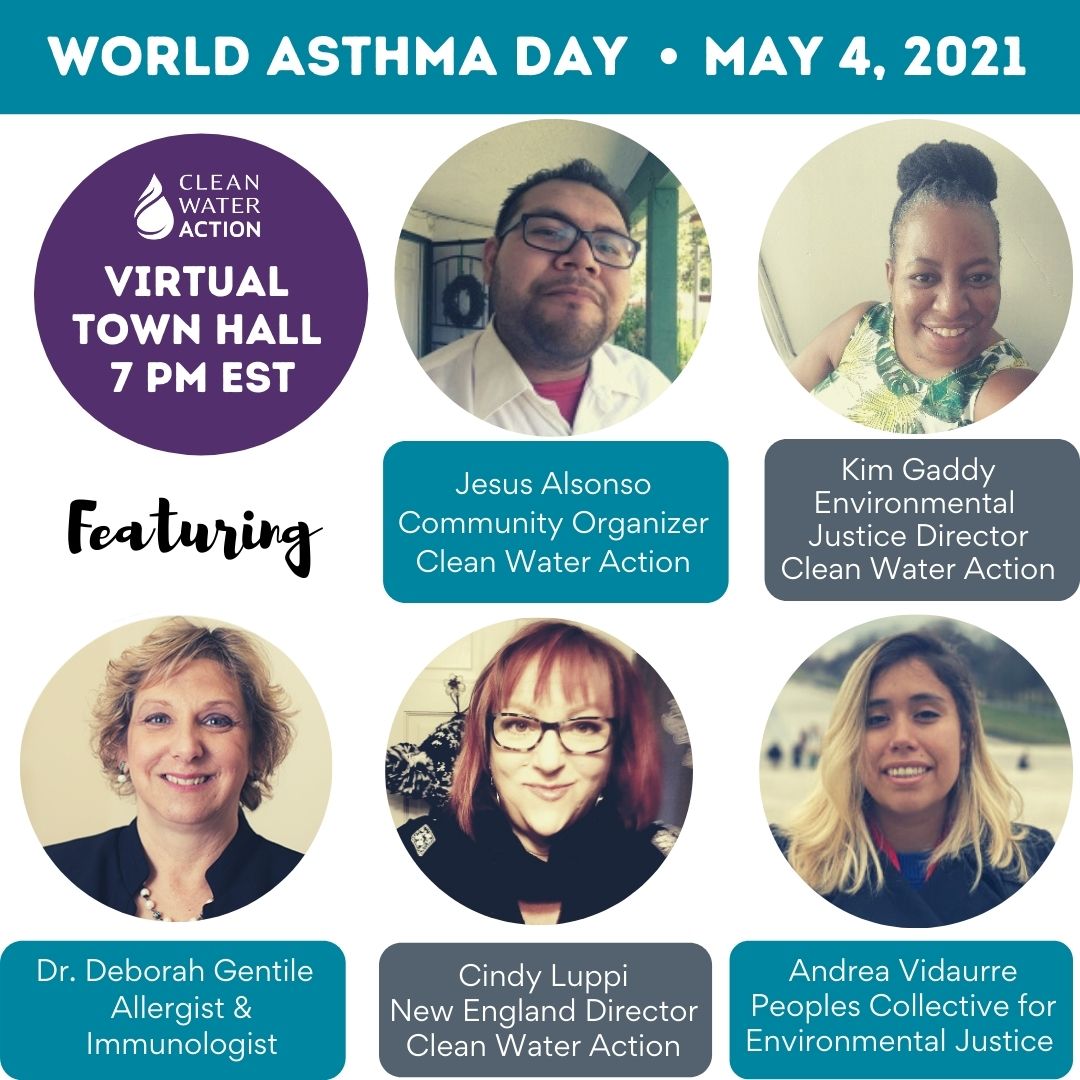 Jesus Alonso, Kern Gas and Oil Organizer, Clean Water Action
Jesus was born in Bakersfield, CA and has lived in Lamont most of his life.  He has been involved in various civic organizations.  In 2012, he began his community organizing work in partnership with the Dolores Huerta Foundation.  There he was trained in strategic skill development in community organizing.  After his training, he was a lead community organizer in Kern County, addressing youth issues that included:  teen pregnancy prevention and advocacy to reverse juvenile school suspensions.  He organized house meetings, action events and outreach activities that had a profound impact in the community.  He joins Clean Water Fund to build extensive knowledge in oil and gas pollution and the negative impacts in his community.  He has been working on the ground organizer for Clean Water Fund's oil and gas advocacy.
Kim Gaddy, National Environmental Justice Director, Clean Water Action
Kim Gaddy is the National Environmental Justice Director for Clean Water Action. She has been advocating for communities impacted by industrial pollution and the goods movement system in Newark and across the country for 18 years.
Kim develops and implements Clean Water Action/Clean Water Fund's grassroots environmental justice campaigns and coalition building efforts nationally and in New Jersey. She is a former Newark School Board Member, New York/New Jersey Regional Representative for the Moving Forward Network, Port Commissioner for the City of Newark, Appointed by Governor Phil Murphy to serve as Vice-Chair of the NJDEP's Environmental Justice Advisory Council,former Chair of both the Newark Environmental Commission and the Essex County Environmental Commission,a founding member of the New Jersey Environmental Justice Alliance and New Jersey President of the International Black Women's Congress. 
Previously, she worked in Municipal government in Newark for 12 years and served as the first female Chief of Staff, for Councilwoman Mildred Crump. Kim was recognized for her Community Service in the 2018 Newark Women from Suffragettes to the Statehouse, 2017 selected as 100 People of Newark, Women on the Move Award recipient and a 2007 recipient of the Environmental Protection Agency Region 2 Environmental Community award.
Deborah Gentile, MD
 Dr. Deborah Gentile is Director of Allergy and Asthma Services at East Suburban Pediatrics and Medical Director of the newly formed non-profit Community Partners in Asthma Care.  She is board certified in allergy and immunology and has expertise in the diagnosis and treatment of allergy, asthma and immune disorders in infants, children and adults.  She completed medical school, pediatric residency and allergy/immunology fellowship at the University of Pittsburgh.  She previously worked at Children's Hospital of Pittsburgh, Allegheny Health Network and Pediatric Alliance, respectively.  Her recent research efforts have focused on evaluating asthma outcomes and triggers in disparate children from the Pittsburgh Region. Her work identified a strong association between exposure to elevated levels of outdoor air pollution and increased asthma prevalence and poor disease control in these children.  She currently has funding from the Heinz Endowments to support this work.   Dr. Gentile has authored more than 60 publications and is the recipient of numerous awards for her research efforts.  She is past president of the her local and state allergy societies and is a member of numerous professional organizations.  
Cindy Luppi, New England Director, Clean Water Action
Cindy has worked with Clean Water Action since 1994, helping to coordinate a number of coalitions and community-based efforts to reduce pollution and promote a cleaner, more sustainable economy.  She sits on a broad range of steering committees and boards, from national chemical reform efforts to local grassroots groups including HealthLink and the Massachusetts Climate Action Network.  Among other clean energy and climate initiatives, she coordinated the Northeast Clean Power Campaign which successfully pressed for clean-up of the region's biggest industrial polluters, the oldest and most polluting coal and oil-fired power plants in New England. She represents Clean Water Action on the Green Justice Coalition which is dedicated to stimulating green jobs creation in growth sectors such as energy efficiency and providing pathways out of poverty in low income communities of color in Massachusetts.   She also acts as a senior strategist and steering committee member for the Campaign for Safe Cosmetics, a national effort dedicated to replacing toxic chemicals in personal care products with safer alternatives. Prior to her work at Clean Water, Cindy coordinated the Cree Speaking Tour for Massachusetts Save James Bay and was a Peace Corps volunteer in the Central African Republic.
Andrea Vidaurre, Policy Analyst, Peoples Collective for Environmental Justice, Inland Empire, California
Born and raised in the Inland region of Southern California, Andrea found her passion for environmental and public health issues through her experiences growing up in environmental justice communities. As a graduate from the University of California, Riverside (UCR) and daughter of migrant parents from Peru, she spent much of her time studying systemic oppression and its transnational impacts. At CCAEJ, she is able to take all her interests and put them into practice and action! She loves constantly learning from the community around her and being apart of a greater movement for an equitable quality of life and conservation of our mother earth!